Personalized Hautman Brothers Songbird Art Welcome Sign

Personalized Hautman Brothers Songbird Art Welcome Sign
Songbirds Of The Season Personalized Welcome Sign Collection
Limited-edition welcome sign collection with Hautman Brothers songbird art on interchangeable stone-look plaques. Display, personalized plaque
Welcome display measures approximately 31.8 cm W x 21.6 cm H; seasonal and holiday signs measure 25.4 cm W x 10.2 cm H
Price:
$
69.99
CAD
Each Issue
Songbirds Of The Season Personalized Welcome Sign Collection
Limited-edition welcome sign collection with Hautman Brothers songbird art on interchangeable stone-look plaques. Display, personalized plaque
Welcome display measures approximately 31.8 cm W x 21.6 cm H; seasonal and holiday signs measure 25.4 cm W x 10.2 cm H
Item no:
902870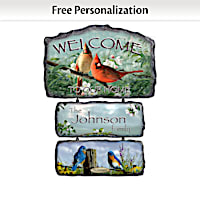 Buy This Item Now:
Personalized Hautman Brothers Songbird Art Welcome Sign
Songbird Personalized Welcome Sign with Songbird Art from Award-Winning Hautman Brothers! Includes WELCOME Display.
Price:
$69.99
CAD
Each Issue
Personalized Hautman Brothers Songbird Art Welcome Sign
Songbirds Of The Season Personalized Welcome Sign Collection
Limited-edition welcome sign collection with Hautman Brothers songbird art on interchangeable stone-look plaques. Display, personalized plaque
Welcome display measures approximately 31.8 cm W x 21.6 cm H; seasonal and holiday signs measure 25.4 cm W x 10.2 cm H
Item no: 902870
Intended for indoor use only.
©James, Robert and Joseph Hautman. Courtesy of MHS Licensing
©2011 The Bradford Exchange