About Us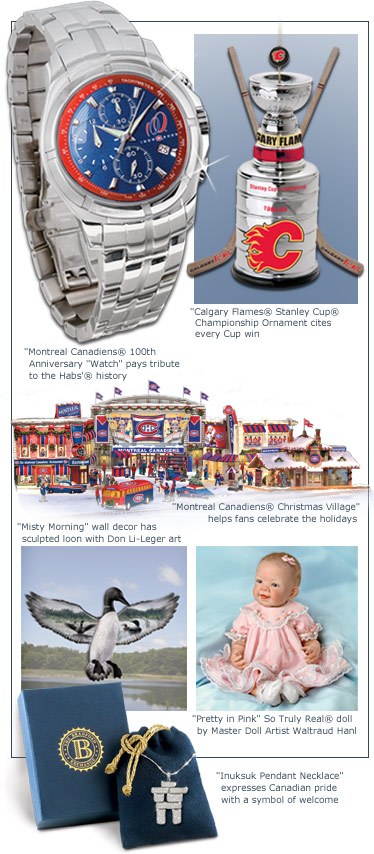 Artistry, Innovation and Enduring Value
This Bradford Exchange Web site offers a unique and customized level of service to Canadian clients of The Bradford Exchange. Since the early 1970s, The Bradford Exchange has been recognized as the premier source for a vast array of unique limited-edition collectibles and fine gifts that offer an exceptionally high level of artistry, innovation and enduring value.
The Bradford Exchange has a foundation of decades of experience and trust in the international collectibles market. Founded in 1973 by J. Roderick MacArthur in Chicago Illinois, The Bradford Exchange was at first known as a computerized trading center for limited-edition collector's plates, an innovation that completely revolutionized the collectibles market of that era. Over the years, our company has been recognized with more than 100 top-level industry awards for the artistry and innovation of our collectible offerings and services. That level of expertise has evolved into our undisputed worldwide leadership position in the present-day collector marketplace.
To our clients the name The Bradford Exchange can mean many things. For some it's a great shopping experience, a place to find the finest limited-edition collectibles, dolls, figurines and home décor, plus fine jewellery and apparel — all backed by the best guarantees in the industry (up to 365 days on many items). For others it's the ability to get accurate, up-to-the minute information about the artists, themes and collectible types they love best, such as hockey-related collectibles, memorabilia and jewellery. For still others, it's the opportunity to find a unique gift that's not only exclusive and memorable, but often personalized just for the loved one who will receive it.
Whatever the reason you are visiting us, we want you to consider The Bradford Exchange as your first choice for unique, beautifully handcrafted items that are as special as your own interests. Our mission is to delight collectors and gift buyers alike by providing an exciting and satisfactory online shopping experience second to none.
When you shop with The Bradford Exchange, we offer you these many benefits:
Ease of ordering online, anytime, from a source you can trust. Our site is certified safe and secure by VeriSign, one of the world's most respected, independent online security monitoring services. You may rest assured that any personal or credit card information you provide is coming to us in a completely secure environment, and only for the purpose you intended
The opportunity to manage your own account and track your own purchase, payment, billing and shipping information online, whenever you wish
The expediency of our deliveries and the safe arrival of your orders
The satisfaction of knowing that your privacy is protected in all transactions. To review our Privacy Policy, click here.
The best guarantees you will find anywhere in the collectibles marketplace. To learn more about our Guarantees, click here.
We invite you to take full advantage of everything The Bradford Exchange has to offer, so that you will become not only a frequent visitor to our site, but also a satisfied customer. We enjoy nothing better than knowing you have found a very special handcrafted item online, delivered right to your door, that delights you in every possible way. Click here to start shopping right now.
The Bradford Exchange
2080 Piper Lane
London, Ontario N5V 3N6

Toll-free phone: 877-595-9507
See What Our Customers Are Saying!
Click Here to read more of our reviews.