"Purr-fect Companions" Kitten Art Collector Plate Collection
Purr-fect Companions Plate Collection
Greg Giordano's lifelike artwork of adorable kittens in amusing situations, beautifully reproduced on fine porcelain with 22K-gold scalloped edges.
Measure 21.6 cm in diameter
Price:

$44.99 CAD
s&s

$9.99 CAD
Description
If you want to brighten your day, just take a look at this kitten art collector plate collection! This delightful artist Greg Giordano collector plate tribute to our furry little feline friends begins with Issue One, Smitten Kitten Next, you'll be a-mewsed by Issue Two, Paws in Play. Before long, your oh-so-charming collection will continue with additional kitten art collector plates, each a separate issue to follow.‡
Each of the collector plates in this collection is available exclusively from The Bradford Exchange. Mr. Giordano's amazingly lifelike artwork is beautifully reproduced on finely crafted porcelain, with scalloped edges banded in 22K gold. Treat yourself to the heartwarming joy of kittens anywhere in your home, but don't wait! Fur-ocious demand is expected, so order now!
Features
This exclusive collectible kitten art collector plate collection from The Bradford Exchange features:
A charming collection featuring the delightful kitten portraits of acclaimed artist Greg Giordano on fine porcelain, available only from The Bradford Exchange
Mr. Giordano's heartwarming artwork is reproduced in brilliant color and detail on each collector plate in this collection
Each collector plate is superbly crafted of fine porcelain, with scalloped edges banded in 22K gold
Hand-numbered with matching Certificates of Authenticity
Smitten Kitten measures 8-1/2" in diameter; 21.6 cm in diameter
Subscription
Ordering a Collection by Subscription Plan is for Smart Collectors:
Reserves the entire collectible Purr-fect Companions kitten art porcelain collector plate collection from The Bradford Exchange in your name so you never risk an increase on the price of other collectibles in this collection, or miss a single issue of this collection
‡Each issue will be shipped to you for your review about one every month or two (pending availability) at the same low issue price and charged to the credit card on which your order was placed. No need to order each one separately
You may cancel your collection at any time with no obligation
"Issue One - Smitten Kitten" will be followed by "Issue Two - Paws in Play," "Issue Three - Whiskers and Wonders," "Issue Four - Tiny Treasures," and additional collectible kitten art collector plates as they become available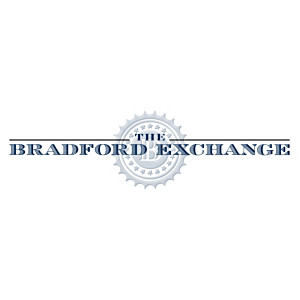 Buy This Item Now:

"Purr-fect Companions" Kitten Art Collector Plate Collection
Exclusive Kitten Art Porcelain Collector Plate Collection! Purr-fectly A-mewsing Portraits by Artist Greg Giordano
Price:

$44.99 CAD
s&s

$9.99 CAD
Item no:

900192
©2006 The Bradford Exchange